---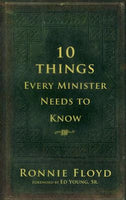 Sale
For 30 years, Ronnie Floyd has been used of God to help build churches that change lives and impact communities. The experience and wisdom he has collected over that time is now, thankfully, here for you in print to feast on. I highly recommend it.
Dr. Robert Lewis, Pastor, Fellowship Bible Church, Little Rock, Arkansas and Founder, Men's Fraternity
  Realistic solutions to avoid being side-tracked by church "games and politics" 
  How a disciplined daily schedule will make your life, family, and ministry stronger
 Have you suddenly realized the fire that burned in your spirit years ago for ministry has waned? Are you a pastor feeling overwhelmed by the demands on your time, energy, and spirituality?
Ronnie Floyd can relate – yet with 30 years of pastoral ministry, he is still passionately committed to God's calling in his life. What has sustained his passion for ministry? In this book, he will share the very best perspective, encouragement, and solutions for all ministers.
Each day, Dr. Ronnie Floyd and his ministry can be seen internationally through his television ministry, Winners. He is a gifted communicator, leader, pastor, and author of 18 books. Pastor Floyd and his wife, Jeanna, will be married for 30 years in December of 2006. They have two sons, two daughters-in-law and one grandchild.
Dr. Ronnie Floyd pastors First Baptist Church of Springdale, Arkansas and The Church at Pinnacle Hills in Rogers, Arkansas. He also broadcasts his dynamic and powerful message of hope, obedience to Christ, and love on various Christian television stations. He and his wife, Jeana, have two sons, two daughters-in-law and one grandchild.
Paperback, 144 pages.
ISBN- 9780892216550