---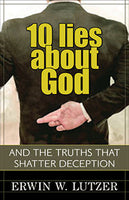 Sale
Is there more than one path into God's presence?
Is God obligated to save followers of other religions?
Does God know our decisions before we make them?
Answers to these questions aren't always readily apparent--can anyone be certain? Sometimes the answers seem inconsequential--do the answers really matter? But sometimes answers contain half-truths and deceptive beliefs that challenge our understanding of God, faith, and the Bible. Many of these deceptive beliefs have now moved from the popular culture into the church. 
Paperback, 238 pages.
ISBN- 9780825429453