---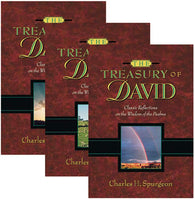 Sale
Charles Haddon Spurgeon, the "Prince of Preachers," composed and polished The Treasury of David over the span of nearly half his ministry. This incomparable commentary and omnibus on the Psalms has been prized by Christians ever since.
Spurgeon's own commentary on every verse of the Psalms is extremely insightful, and by itself it quite rich. In The Treasury of David you will also find a wealth of illuminating extracts and quotes from hundreds of commentators, contemporaries of Spurgeon as well as the great Puritan expositors of the seventeenth and eighteenth centuries. Homiletical hints on almost every verse, concise sermon outlines, provocative seed thoughts as well as useful bibliographies and an index of authors offer practical help for preaching and teaching.
Whether you are teaching on the Psalms, studying them for personal devotions, or simply intrigued by the writings of Spurgeon, you'll enjoy this splendid classic. Charles Haddon Spurgeon served for thirty years as preacher and pastor of London's six-thousand-seat Metropolitan Tabernacle, which his growing congregation opened in 1861. His writings, including thousands of sermons, are still popular with pastors and devotional readers.
Hardcover, 2928 pages.
ISBN- 9781565639454