---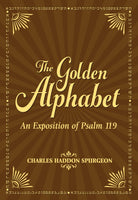 Sale
The Golden Alphabet is Charles Spurgeon's exposition on Psalm 119, published originally in The Treasury of David. Upon noting that the seven-volume treasury was too large for individuals to purchase, he decided to publish smaller sections that are easier to read.
"[Psalm 119], from its great length, helps us to wonder at the immensity of Scripture. From its keeping to the same subject it helps us to adore the unity of Scripture, for it is but one. Yet, from the many turns it gives to its one thought, it helps us to see the variety of Scripture. How manifold are the words and thoughts of God in his Word! Just as in creation, the wonders of his skill are displayed in many ways." —Spurgeon Each section of this particular psalm begins with a letter in the Hebrew alphabet, earning it the nickname "The Golden Alphabet." Readers can now enjoy reading Spurgeon's personal thoughts and learn from his theological insight, breathing new life into this much beloved psalm.
Key points and features:
• A timeless classic, repackaged for a modern audience
• Spurgeon's exposition on Psalm 119 from his original The Treasury of David
• Spurgeon's commentaries are incredibly popular for their keen theological insights, pastoral care, and devotional nature
Paperback, 217 pages.
ISBN- 9781683072805