---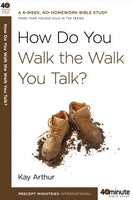 Sale
This brand new Bible study series from beloved Bible teacher Kay Arthur and the teaching staff of Precept Ministries tackles important issues in brief, easy-to-grasp lessons you can benefit from personally or as part of a small group. Each book in the series includes six 40-minute studies designed to draw you into God's Word through basic inductive Bible study. As Kay explains, ''Rather than simply reading or listening to what others say about a subject, you are going to see for yourself what God says about it.'' Join one of the world's most respected Bible teachers in a study that will revolutionize your thinking--and your life.

You are surrounded by a world that's watching you, waiting to see if what you say is true--if you really believe what you say and "walk the walk you talk.

That thought may seem overwhelming, even intimidating. But Kay Arthur is ready to guide you into a deeper understanding of God's Word. This study of vital passages from Ephesians will help you discover what God says about the lifestyle of a true believer. And it will equip you to live in a manner worthy of your calling--with the ultimate goal of developing a life marked by maturity, Christlikeness, and peace.

Get started on an authentic walk with God that matches your talk. Kay Arthur will show you the way.

Paperback, 59 pages.


ISBN- 9780307457639