---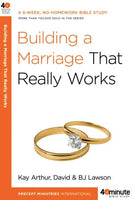 Sale
Marriage begins with visions of eternal love, hope, and happiness. Yet, even among Christians, hope too quickly fades. The happiness dims. And love seems too hard to sustain.

It doesn't have to be that way. God designed marriage to be a satisfying, fulfilling relationship, and He created men and women so that they–together, and as one flesh–could reflect His love for the world. Marriage, when lived out as God intended, makes us complete, it brings us joy, and gives our lives fresh meaning.

In this study, you'll examine God's design for marriage, and you'll learn, from the Designer's perspective, what it means to be a godly husband or wife. You'll discover biblical wisdom for pursuing harmony in difficult areas such as finances, communication, and respect for each other's roles. Most important, you'll learn how to establish and maintain the kind of marriage that brings you both lasting joy,
ISBN- 9780307457578

AUTHOR BIOGRAPHY

Kay Arthur, co-founder and CEO of Precept Ministries International (PMI), has worked with her teaching staff to create the powerful 40-Minute Bible Studies series. Kay is known around the world as a Bible teacher, author, conference speaker, and host of national radio and television programs.

David and BJ Lawson serve as the directors for the student ministries of PMI and train people across the United States in the inductive Bible study method.

Paperback, 96 pages.