---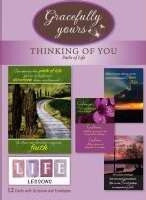 Box of twelve thinking of you cards from Rick Tocquigny- three each of four designs.

Card #1

Front:
Sometimes the path of life
goes in a different
direction than we planned...
& that new direction requires
faith

Inside:

Scripture:
And that new direction requires faith, endurance and hope... Isaiah 43:1,2

And that's what you have
more than enough,
more than you know.

Card #2

Front:
I know it's hard right now, but the
storms will eventually Clear
& the sun will make its way Out...

Inside:

Scripture:
Be strong and of good courage. Joshua 1:7

Know that I'm here for you come
Rain or Shine.
With thoughts of you...

Card #3

Front:

Sometimes Life
is difficult
to understand.
We all face challenges
that were never quite planned.
Yet, we can Trust nothing
is a surprise to God.

Inside:

Scripture:
The Lord is thy keeper: the Lord is thy shade upon thy right hand. Psalm 121:5

Know that God will hold your hand,
guide you through this time
and show His amazing love.

Card #4

Front:
God sees you...
When you keep trying
and never give up.
God knows...
the number of tears you've shed
through all the challenges.
God cares...
about your future and
taking life into new stages.

Inside:

Scripture:
The Lord shall preserve thy going out and thy coming in from this time forth, and
even for evermore. Psalm 121:8

Yes,
He sees, knows and cares...
For you are always in God's heart
and in our thoughts.


ISBN- 814497011070