---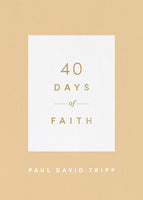 Sale
"Faith is breathing in the oxygen of God's grace, giving life to my once-dead heart."
—Paul David Tripp
As breath is to the body, so faith is to the Christian life. Through 40 daily meditations from his best-selling devotional New Morning Mercies, popular author and speaker Paul David Tripp explores how deep-seated trust in God and his word radically alters not only the way we think, but also the way we live. Tripp urges us not to rely on our own wisdom, experience, and strength—but to ask God to transform us into people who live by faith with a radical, God-centered point of view.
Paperback, 96 pages.
ISBN- 9781433574252