---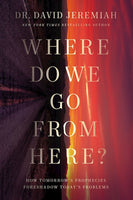 Sale
Today's headlines shout of modern plagues, social tensions, economic crises, and rampant depression. Many are asking, what day is it on God's prophetic calendar? Trusted Bible teacher and Pastor, Dr. David Jeremiah opens up the Word of God to reveal what it has to say about the days we are living in.
Sharing how prophecies and wisdom from centuries ago still speak the truth today and point the way forward for tomorrow. Whether one is new to biblical prophecy or a longtime student of the Bible, this timely message will encourage and recalibrate us to the mission of God in our daily lives. Journey with Dr. Jeremiah back to the Bible to find out, Where Do We Go from Here?
Hardcover, 243 pages.
ISBN: 9780785224198