---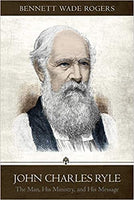 Sale
John Charles Ryle became the undisputed leader and spokesman of the evangelical party within the Church of England in the last half of the nineteenth century, and his works continue to be read by evangelicals of various denominational stripes more than a century after his death. Accordingly, he is often portrayed as "an old soldier" of a heroic cause. While this view of Ryle holds some merit, it often obscures the complexity and dynamism of a most remarkable man.
In this intellectual biography, Bennett Wade Rogers analyzes the complicated life and times of a man variously described as traditional, moderate, and even radical during his fifty-eight-year ministry. Ryle began his ministerial career as a rural parish priest; he ended it as a bishop of the second city of the British Empire. In the time between, he became a popular preacher, influential author, effective controversialist, recognized party leader, stalwart church defender, and radical church reformer.
Hardcover, 380 pages.
ISBN- 9781601786487