---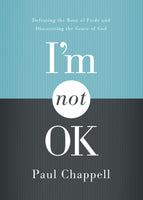 When we experience difficulties, we tend to blame our jobs, spouses, parents, or some other outside source. We then want help to fix those problems, but never think the problem may be us.

Pride causes us to exaggerate our abilities and to underestimate Satan's power.

Learn what the Bible has to say about pride and discover how you can find freedom and peace by receiving the grace of God to deal with the pride that besets us all.

Paperback, 72 pages.


ISBN- 9781598942637