---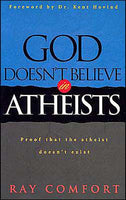 Sale
This book proves to atheists that they don't exist, reveals to agnostics their true motives, and strengthens the faith of the believers. This book answers questions such as "Who made God?" and "Where did Cain get his wife?" The book uses humor, reason, and logic to send a powerful message.Here are some reactions from atheists who read the book . . .
·       "That idiot book!" (Ron Varrier, National spokesman, American Atheists, Inc.)
·       "I was intrigued . . . and a little shaken. . . (Ray Comfort's) argument for design was compelling." (American Atheists, Inc., online message board)
·       "Your writing style is highly readable, as if you're talking directly to the reader." (April Pederson, an atheist)
Paperback, 192 pages.
ISBN- 9780882709222