---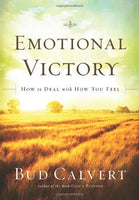 Sale
Emotions are a gift from God, but at times they can be misleading. Feelings will either lead you on a frustrating and exhausting roller coaster ride, or they will be led by the Holy Spirit of God—allowing His peace to rule in your heart. 
How do you respond when facing negative or difficult emotions? Even through the hardest of times, God's Holy Spirit desires to give you emotional stability and victory. His truth and presence can anchor your soul and help you develop emotional resilience. 

With biblical wisdom and personal candor, Bud Calvert examines the most commonly experienced emotional extremes of life. Each chapter will help you understand how to cast your emotional burdens upon Lord and allow His Spirit to give you a peace that passes all understanding.
Hardcover, 209 pages
ISBN- 9781598941951